Sell Records London – The Little Record Shop
I buy and sell records/vinyl in London and surrounding counties, including Hertfordshire, Buckinghamshire, Berkshire, Surrey, Kent, and Essex.
Want to sell your record/vinyl collection?
Turn records into cash – call David on 07946 412766
I'm available to buy records 9am to 9:30pm 7 days a week.
Get the best price for your records/vinyl.
… It's all about trust …
Don't lose money on E-bay, call David and get a real quote.
If you want to sell vinyl/records in and around London, then you've come to the right place. Please check my extensive Google reviews for VERY happy customers. I pay on the high side for record/vinyl collections in London and areas I can drive to a sensible distance away. Feel free to call me/message me on m: 07946 412766 – t: 020 8340 1577 or drop me an email at david@thelittlerecordshop.co.uk to check your record/vinyl collection.
For most people, you are probably sitting on a vinyl or record collection in London that has some absolute gems, and others I will be very interested in too. The ratio of great records/vinyl vs other vinyl/records that I can buy from you or you can easily sell through other channels might vary, but I will always give you great advice. The record/vinyl market, especially in London and the surrounding counties is incredibly strong and growing all the time. The great thing is that you probably don't need to leave home to sell your record/vinyl collection. A quick call, then I can arrange to come and see what you have. I'm based at The Little Record Shop in North London, and so can usually visit most places easily.  You can also trust my experience which (I'm scared to say) extends to buying and selling records/vinyl in London for over 25 years now! As you can tell.. I'm VERY enthusiastic about records!

Cash 4 Records & The Little Record Shop are one and the same.
With so many records around, I opened The Little Record Shop! If you want to sell records/vinyl or buy records/vinyl, you not only benefit from genuine advice from someone with over 25 years of experience trading records (and a great price if you want to sell them), but you can also come and browse, buy or drop records.
It's a small shop, but very welcoming 🙂
The Little Record Shop
43 Tottenham Lane
Crouch End, London
N8 9BD
Open: Tue, Fri, Sat 1pm – 5.00 , Sun 1 pm – 4pm
Sell & Buy records/vinyl?
I'm interested in your lifelong loved top-quality record/vinyl collection and will pay the very best cash price for it.
I buy, most genres of music. I am also very interested in: standard and rare records, collectible records, lifetime collections in the genres; great rock collections, jazz collections, African, funk, soul, northern soul roots, lps 12s 7 " and eps. Quirky, Unusual, soundtracks, library, mod, 60s, 70s, punk .. post-punk …electronic..German krout rock..Indian, progressive rock, psychedelic rock, folk, old library collections, hospital radio collections, British jazz, any jazz 50s 60s jazz. Acetate's ..demos …test pressings ..
I really do pay the best, fair prices too!
I am available to buy records/vinyl 7 days a week from 9am to 9:30pm. Simply get in touch.
I am available to buy records 7 days a week from 9am to 9:30pm. Simply get in touch.
Email me call me text me.
Let me know your location your collection roughly how many and what genre ( type of music )
I will always call back so please leave details.
"David clearly knows the business inside out and seems to me to be completely honest and fair when it comes to valuing & buying records. Not only this but he is a very open, likeable and friendly man such that the whole process was a pleasure. I am glad that I have met David and hope he goes from strength to strength! Would definitely recommend."
Wayne fb – North London – July 2022
"Had a really interesting chat with David about my record collection and not only did he give me a good price, he also advised me on how to dispose of other items. It was lovely to meet him and a pleasure doing business with him. I can thoroughly recommend David to anyone else who is looking to downsize and clear album collections."
Christine Morris, April 2022
"Really excellent experience of selling records with David. From first email contact to David visiting to review and purchase was seamless, fast and easy. He's a really fair and gives a good price, and tips on how to sell records that aren't within his range. Highly recommended."
Alison Carter Albert, North London, May 2022
"A pleasure doing business with David. He visited my house and made me an offer at the top end of what I as expecting. Cash transferred immediately. Would highly recommend."
Richard Stell, Surrey, June 2022
"Had a collection of 150 LPs. Contacted David by WhatsApp and he came around the next morning. He was open and honest and paid a fair price. I would recommend highly."
James Watson, London, September 2022
"Know joke, I have been looking for an honest record dealer for years, and I have finally found it in The Little Record Shop. David was friendly and genuine when it come to evaluating my collection. He gave me a price which I was very happy with and surprised. David is now my first port of call with it comes to Vinyl. Thanks again. Andre."
Hyperdyne XACT
At the shop
At the shop I almost always sell lower than Internet prices. I like to offer unusual records as well as the big hitters.
I'm proud NOT to sell on eBay. That way, rare and unusual records are available for buyers like the old days!
Selling online often means nice items go to the far reaches of the world, and the local or regular buyer misses out.
I don't do that. I only sell from the shop.
Buying your records
I love the buying process. I don't send an employee over, I go myself. It's a friendly, bespoke and reliable service.
I don't just buy records in and around London. I often travel, so call me. It's great to visit folk and discover what they have.
I pay a great price that leaves the seller with a smile and me too on my journey home ..
it's as simple as that!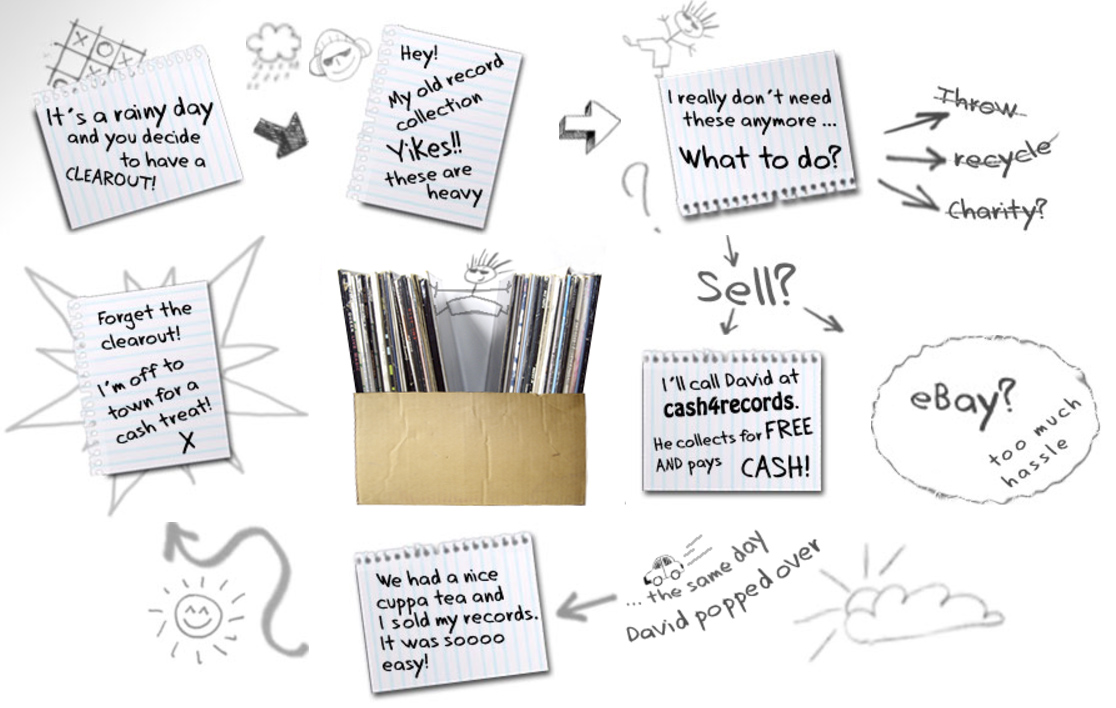 The Little Record Shop has updated its website to be even [...]
Sell Records/Vinyl?  Buy Records/Vinyl?
If you have reached my website, then I'm guessing you are interested in trying to sell records/vinyl, or buy records/vinyl, but either way you probably have great memories of your music collection and feel it has great emotional value.  Everyone loves music! Given the resurgence of vinyl, you may have guessed that your records may also have great financial value. Obviously, they may be worth a lot of money, or they might not be worth much at all, but you won't know that without checking.
Check the value of your record collection
There are lots of ways to discover the value of a record collection, but most of them involve way too much work, either online, or asking around (or wasting time on eBay!).  The easiest way to realise the value of your records, and possibly sell records turning them into cash is to find a trusted record dealer.  The good news is that you are one phone call, text or email away from someone with over 25 years of experience buying and selling records.  Yes, that's me!
Records bought – I pay cash for records
I buy and sell a great many records in London, but travel all over to see record collections for sale.  Records are my passion and I pay great prices. You could say I am a bit old-fashioned giving people a personal service, but I prefer it that way. A website that sells records including eBay can leave the seller very discontent. They have to deal with all sorts of people that either know a lot about records and try and rip you off, or don't know much at all and just waste your valuable time.  It's a funny world!  If you want someone to simply turn up, leaf through your record collection, give you an honest and often top-notch valuation and pay cash for your records, then get in touch.  I whizz all over the place checking record collections for sale and do this 7 days a week 9am to 9:30pm.
I sell records/vinyl in London and across the World
I also have a great and extensive collection of records at The Little Record Shop, Tottenham Lane, North London. If you are looking for something, then drop by. The shop has original rare records/vinyl from across the board that you may not find online. If it be African /Reggae/Roots or Jazz or Psych. Anything rare or unique is usually not available on mainstream websites because the dealers buy and sell them behind the scenes or on eBay.  I don't! I also export some absolute gems to keen collectors across the Globe. As a respected record/vinyl dealer, I have over 25 years of experience. Somebody somewhere wants your record/vinyl!
You will find I have some original records and rare vinyl just sitting in my shop ready to be found. I get fresh stock all week from various places.  I even give a quantity of records every other week to my local charity shop. This keeps the records in the shop fresh and un-seen and gives space for the new stock.
Buying records in London – A quick quide
It's a fantastic world of eclectic record shops in London run by great people with lots of enthusiasm awaits you! The Little Record Shop features on the map on this link as part of a wide range of vinyl shops in London – check the map of London record/shops here.
If you are central to London or local to Spitalfields Market, then there's a fab Vinyl Market every couple of weeks too. Click this link to the Spitalfields Vinyl Market here.
Obviously, there are a great many avenues to buy records/vinyl in London, but if you really want to sell your record/vinyl collection, then the best approach is to contact a dealer with experience who will save you the time and frustration of using websites like eBay, open auctions (who won't necessarily value the collection fairly) or even worse, a car boot sale! Get in touch and save yourself all that stress. Please read my reviews to check what people think. My customers are great and I always pay a very good price for records/vinyl you want to sell in and around London.